The #1 Rated CAD/CAM for Features and Value
POWERSTATION is a fully integrated 2-1/2 - 3 axis CAD/CAM system, utilizing an easy to use mouse / menu interface. Complete tutorials, documentation, and technical support make this affordable, proven software an outstanding value.
POWERSTATION - 2006/2008 New Features !!!
Download the POWERSTATION Literature PDF file
Download A Demo of POWERSTATION
Available in Four levels: XPERT, BASIC, PRO and PRO+ -- See POWERSTATION Versions Comparison
Minimum System Requirements:
WINDOWS

XP/Vista/7

15

00 MHz

CPU

512

Meg Ram

(1024 Vista/7)

SVGA (800x600 Minimum)

50

Meg Disk Space
Mouse or Other Pointing Device
The most powerful geometry creation capabilities of any CAD/CAM system available.
Over 32 Point, 40 Line, 50 Arc Definition Methods !
Ellipses, Rectangles, Polygons, Triangles
Box's W/O Rounded Corners
Cubic, Bspline, Biezer curves, with optional "Arc-Fitting"
Linear / Circular Slots
Hole Patterns: Linear, Arc, Circle, Rectangle, Grid, Ellipse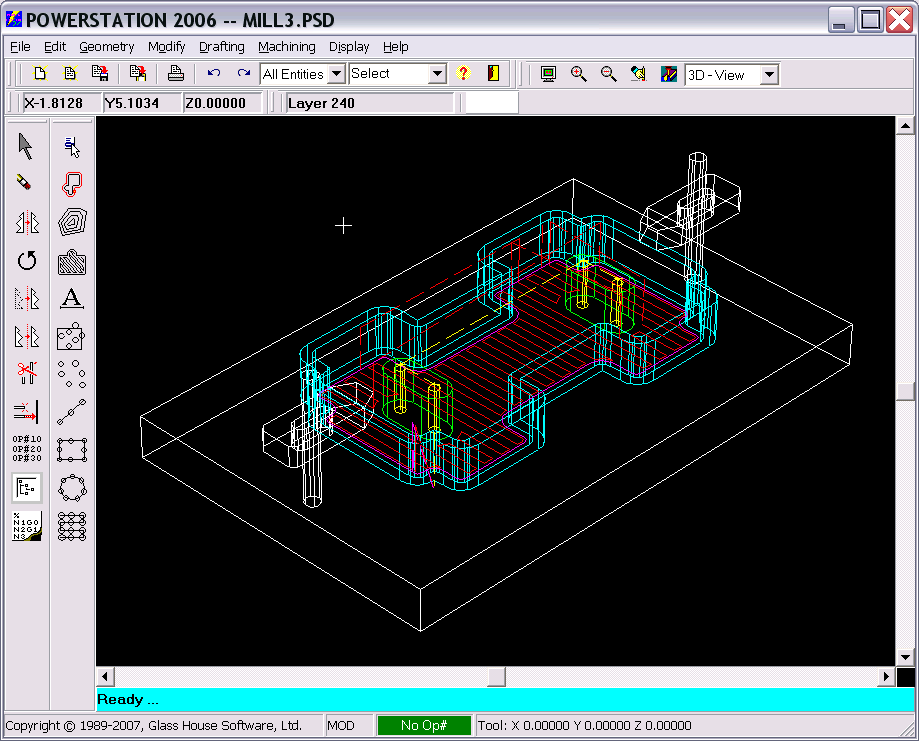 Mills, Lathes, EDM's, (Punch/Burn with optional POWER-FAB)

Includes Post Processor Generator for Custom NC-code Output Dozens of Sample Posts Included
Pocketing with Islands,w/multiple depths, feedrates, and auto clean-up
Pockets: Free Form, Polygon, Circular
Contouring W/O Tapered Walls
Interactive Graphic Tool Path Editing / single block display
Lathe: Rough Turn, Back-turn, Under-cut, Groove, Thread (Canned cycles too!), Drill, Chamfer
Operation / Tool List Printout, Store / Recall Standard Process Plan's
Free Form Tool Motion: Drive the tool where & when you want it
Text Engraving (PRO/PRO+ Includes WINGRAVER

/WINGRAVER

-PRO 200

2

for True-Type Fonts)
Over 30 Machining Cycles: Drilling, Boring, Tapping, Chain Cutting, lead in/out, circle clean-up, helical, optimized drill paths, multiple parts, thread milling, to name a few !
POWERSURF - Advanced 3D Surfacing Module, for Creating Surfaces: Ruled, Revolved, Coons Patch, Skinned / Lofted, Radial, Included at no charge !!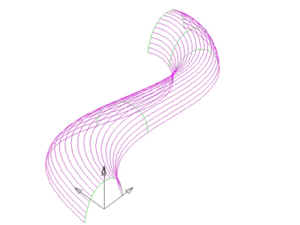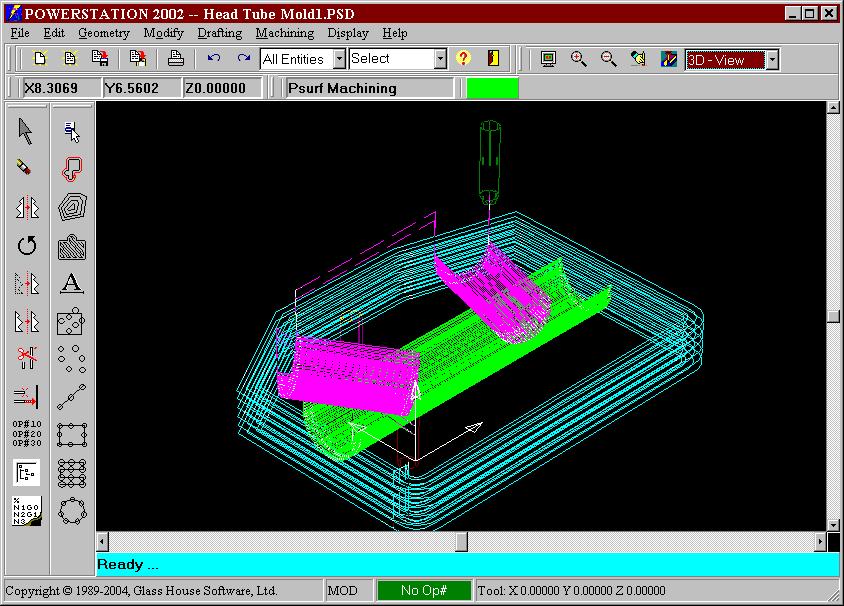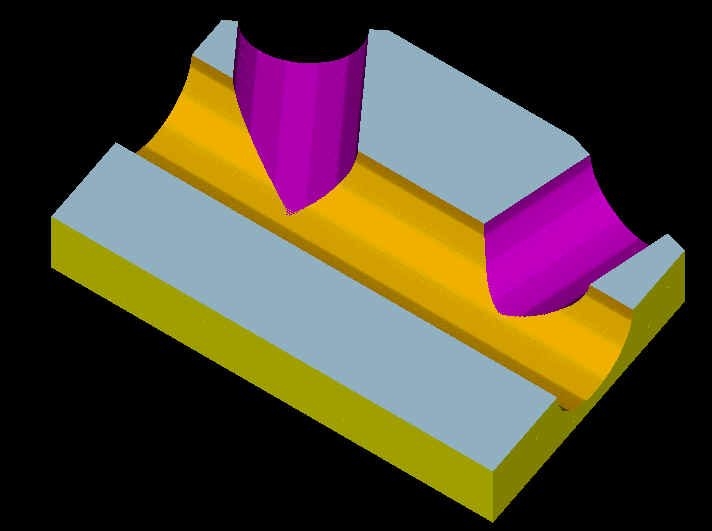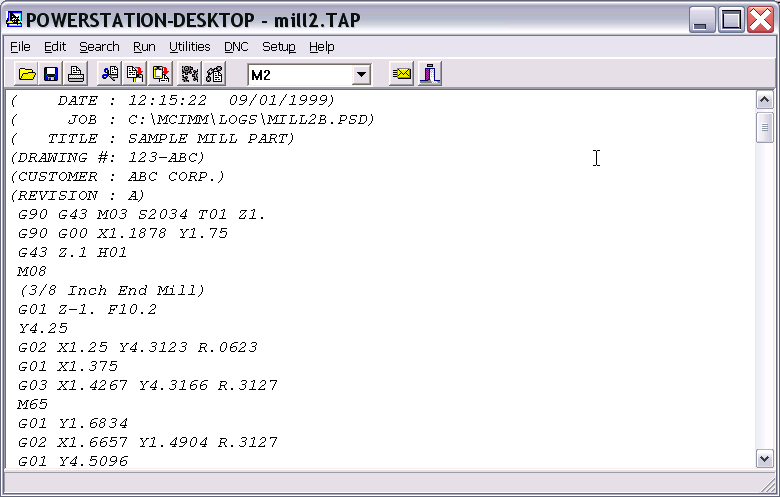 True NC-Code Editor
Edit Large Multi-Megabyte files quickly
Resequence Block Numbers
Remove Sequence Numbers
Find and Replace
Insert Special Characters
File Compare - Spots differences between edited version of the same program
DNC Communications - Includes on-line documentation on proven setups for many common controls
Machine Setup -- Allows complete customization of the generated NC-Code (See NC-Code below)
NC-Code file "Pretty Printing" for easier to read NC-Code listings
Triangle Solver
File utilities to simplify copy to/from diskette, system setting backups, etc..
DXF Import / Export Capability - Bring in drawings made with AutoCAD (Includes AutoCAD 200

6

), Cadkey, PRO-E, Solidworks, Design Cad, Intellicad, any any other fully DXF compatible CAD or CAM system.
MINI-CAM, HPGL Import
IGES Import (PRO/PRO+)/Export
Large, Complete, Printed Manuals

Available

!!!
Complete Post Customizing with Post Macros
Includes Library of Sample Post processors
NO Hardware Lock protection required
"Basic-Like" macro language for custom routines. Extend / Customize POWERSTATION for any of your special requirements. Easily build parametric programs.
If a system is powerful but its power cannot be tapped, it is useless. If a system is simple to use, but its power limited, your business can suffer. Ease of use is an often abused term in the computer industry today.
WORK AT YOUR LEVEL
Commands can be entered by simple mouse - menu selection or by shortcut keyboard commands. These two methods can be freely intermixed, providing an optimum user interface tailored to the way that you think and work. For example: in many cases you will be asked to indicate with the cursor the approximate location of a blend radius or tool position. The system will take this location and calculate the exact position automatically.
Shop people are machinists and mechanics not computer programmers. Shop people want to get in, create a good, verified program and get back to the business of doing what they do best; making parts.
On-line, hypertext help is always a keystroke away. You simply point and click on the topic in question. The system will give information on the topic and automatically display related topics.
All prompts are written in simple shop English not "computerese". Practical defaults to all questions speed job creation.
"ASSOCIATIVITY" HAS ONLY BEEN AVAILABLE IN CAD/CAM PROGRAMMING SYSTEMS COSTING OVER $8,000
NOT ANYMORE !!!
Now, When You Need To Change Your Tooling, Part Geometry, Or Any Other Engineering Revision Is Called For....
POWERSTATION - PRO/PRO+ With Full "Associativity" Can Automatically Re-Generate All Your Toolpaths... Easily, Quickly, and Affordably.
** "Associativity" Featured in POWERSTATION PRO & PRO+ Versions Only!!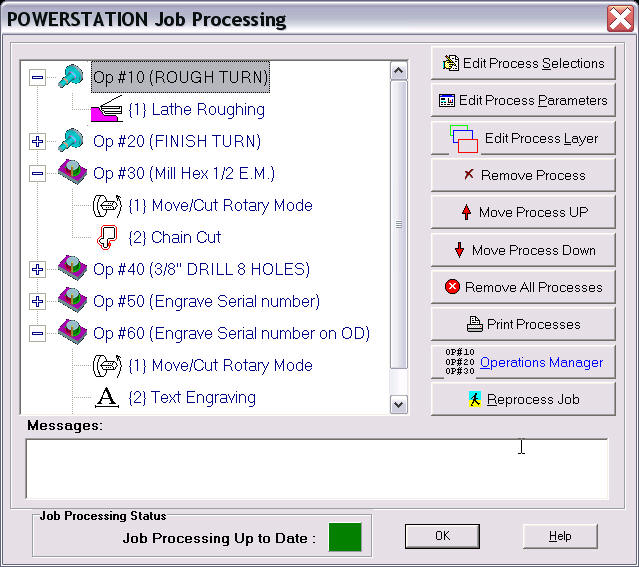 NC-CODE GENERATION (POST-PROCESSING)
An extensive library of over 100 pre-written post processors is supplied on your system CD-ROM at no additional charge. Use these posts as is, or customize them to meet your specific needs.
Included in POWERSTATION is a generalized post processor that provides the ability to "teach" the system attributes of each of your current and future machines.
By answering simple questions pertaining to : G & M codes, number formats, etc., the generalized post automatically creates and maintains a parameter file for that specific machine.
Once created, these files are automatically retrieved and used by simply specifying the machines name.
Post macros: The post macro feature allows for simple customization of the post processor output. Basically an operator defines a post macro by painting a picture of the desired output and assigning a name to this information. Unlike many systems where this information is static and unchanging, POWERSTATION post macros are dynamic and can make logical decisions based on the current machine status.
This flexible system has been customer tailored to a broad range of NC/CNC machine tools, from old hard wired NC-chucker lathes to modern multi-axis CNC machining centers.
Partial List of Sample Posts Included (Not in order!):
Acrolock
EZ-Track
Seibu EDM
Agietron
Fanuc (all models)
Servo 3000
AhHa
Fadal
Traub lathe (Live tooling)
Analam
Ha

a

s
Trionics
Bandit (old/new)
Heidenhein (Native or -G- Code)
Yasnac (all models)
Bendix
GE-550
Omni-Turn
Bridgeport (Including Old Tab Sequential)
Hurco (-G- Code or Conversational Print out)
Shopbot Robotics
Centroid
Meldis
Delta Tau
Cincinati
Milltronics
Millstar
Crusader
OKK
Flashcut
Dynapath
Okuma

IBH Automation PA 8000

Dynamyte
Prototrak

Mill Power

Mazak

Tree

Hardinge

Monarch

Sodik

Hansvedt EDM

Burny

Thermwood

Japax

Concepts 4 Progress

Microkinetics Mill Master Pro

Precix

Fagor

Power Automation Flow Waterjet

Shop Saber Router

H

ybrid

6

Num

Acu-Rite

Artsoft MACH3

NEE Control

Charmilles

Googolplex Laser

Amada Laser

Toshiba / Tosnac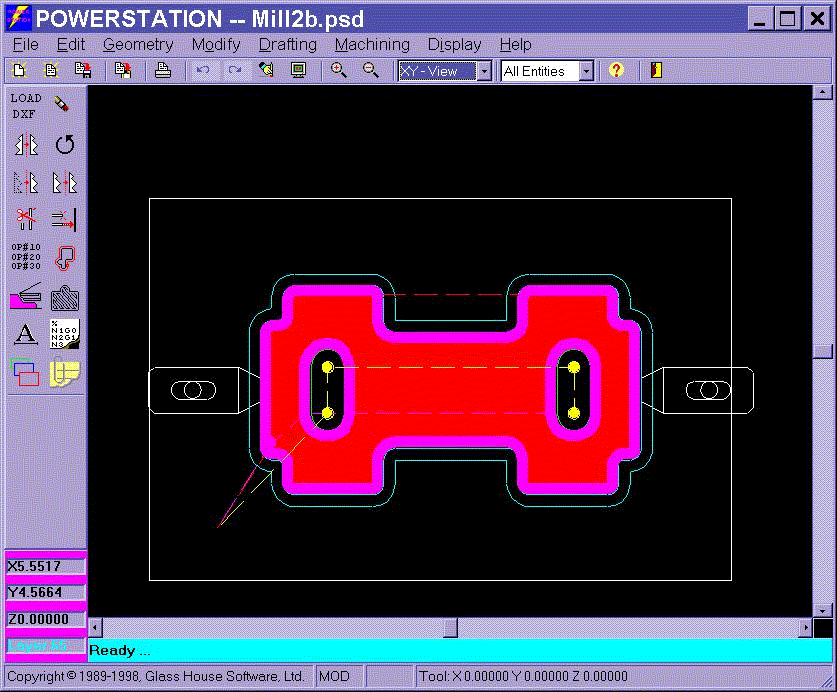 Pocketing, Finish Contouring, Drilling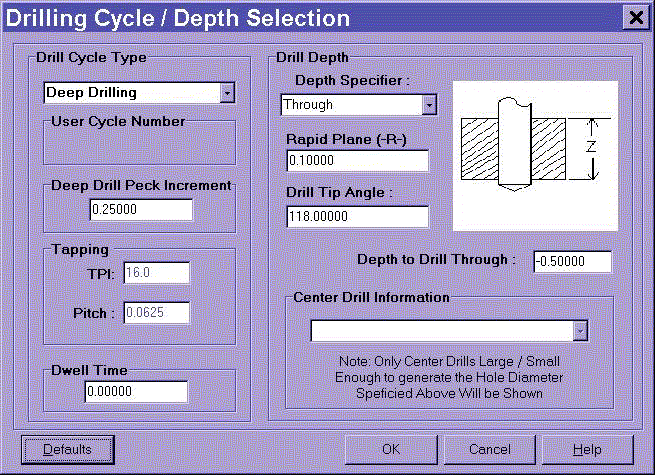 Typical Machining Dialog Box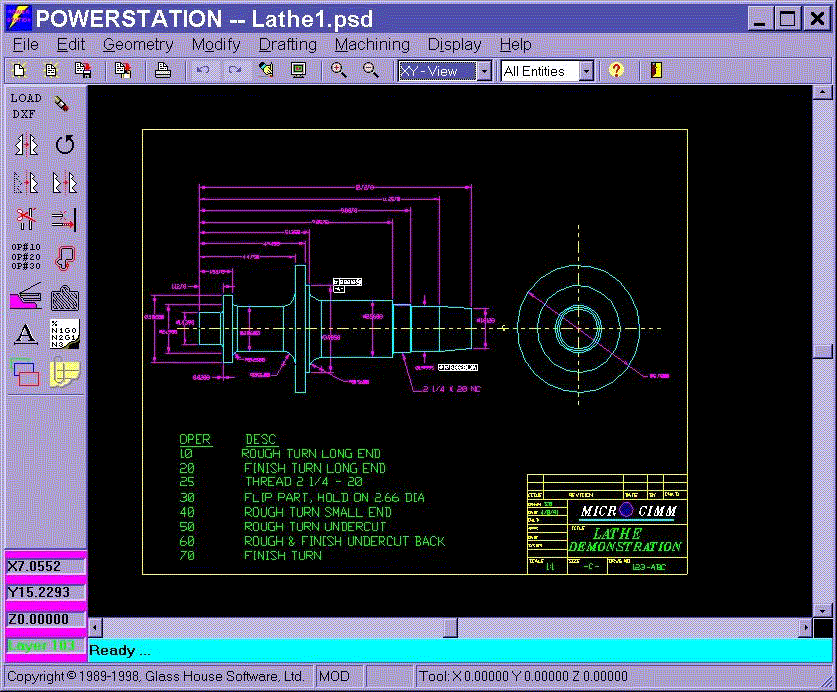 Lathe Part Print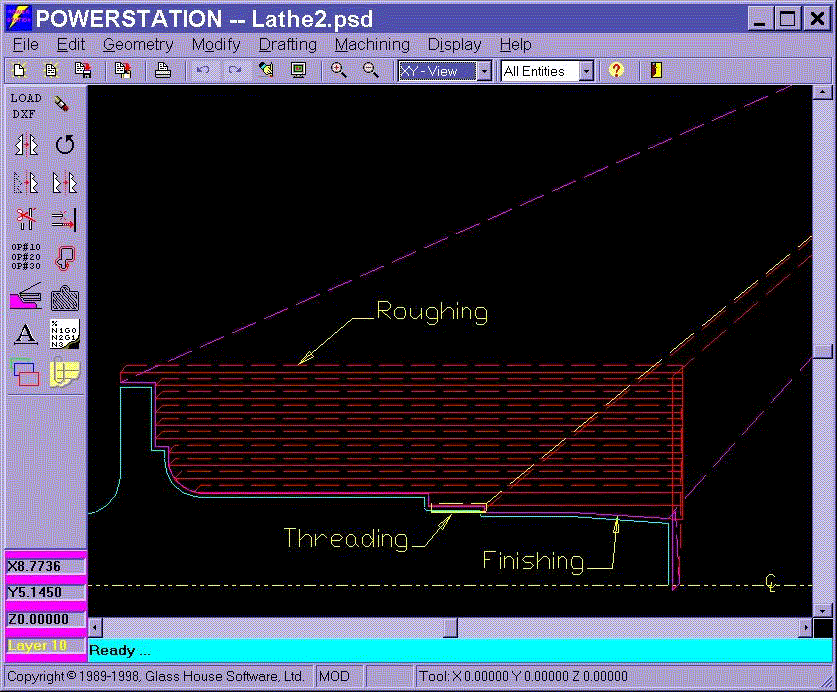 Roughing, Finishing, Threading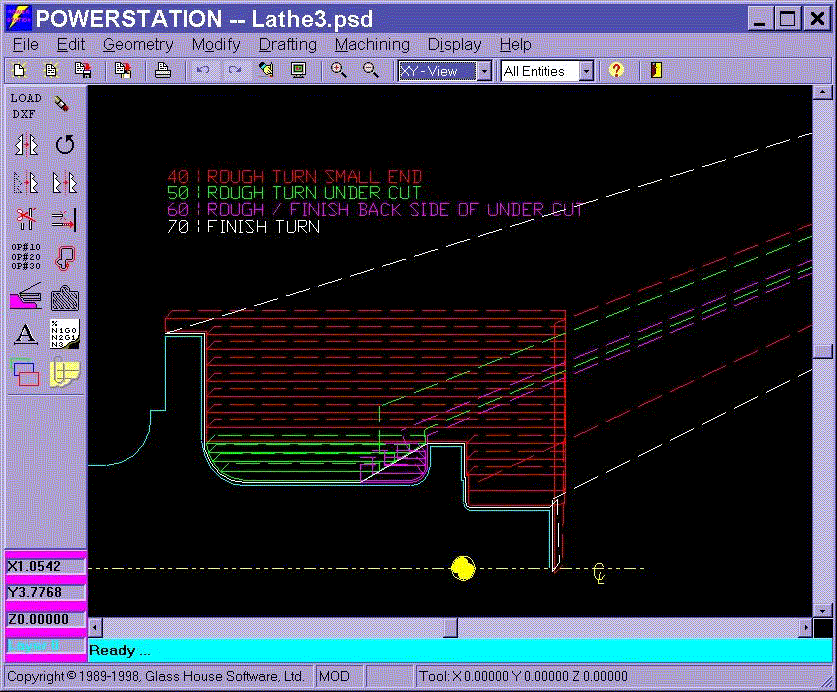 Lathe Roughing, Undercutting, Back Turn Undercutting, and Finishing