POWER-FAB
PUNCH PRESS ADD ON FOR POWERSTATION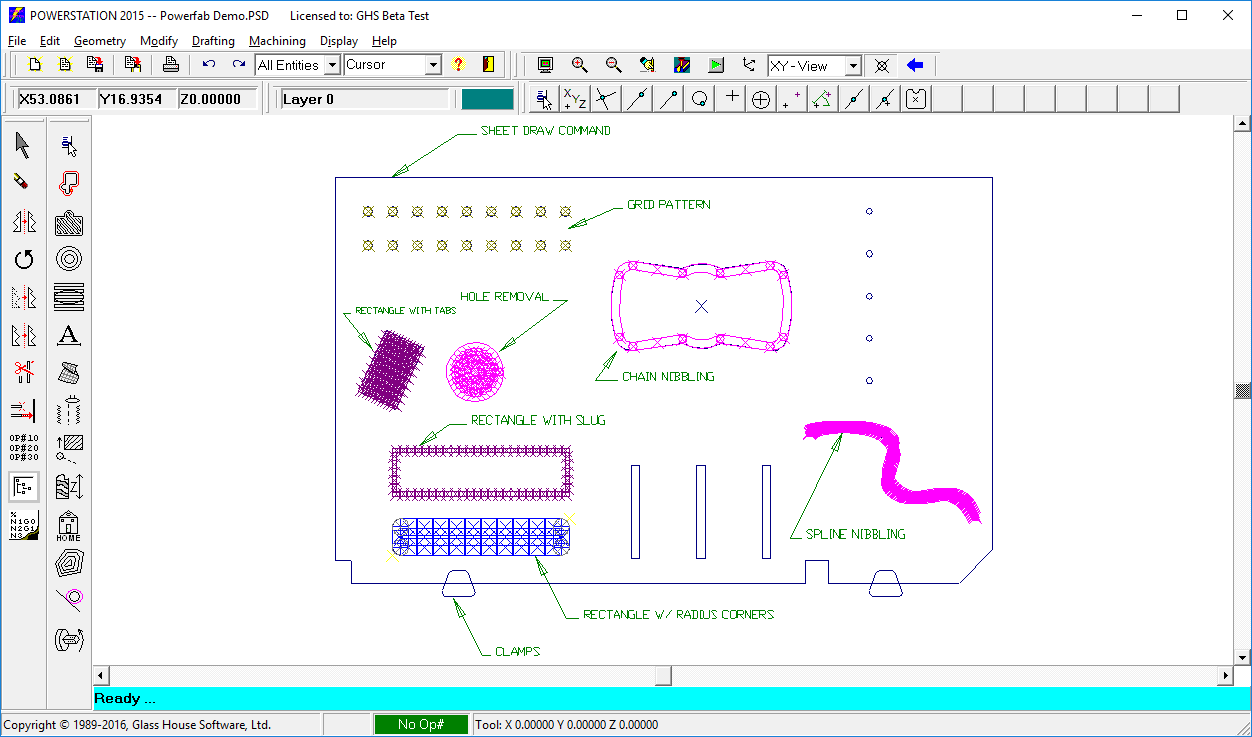 Download the Power-Fab Tutorial (11/15/16)
General
Adds powerful fabrication capabilities to the POWERSTATION CAD/CAM system.
Support for standard, sheer proof, & indexable (-C- axis) tools
Standard tool shapes include: Round, Rectangle, Obround, Corner radius, Triangle, "D" and "DD"
Punch hits can be output as discreet hits, or as custom, user defined canned cycles.
Multiple parts generated automatically
Automatic clamp avoidance & repositioning
Interface to ASK-SAL! Tool & Material library
Sample Cycles:
Patterns: Arc, Bolt Circle, Grid, Linear
Corner Radius, using a radius punch
Edge, Punching (shearing) along a line, w/wo tabs
Hole, Punching out of a hole while leaving or removing the slug.
Nibble, Nibbling of a LINE, ARC, SPLINE, CHAIN SELECT (Continuous path of ARCS & LINES)
Notch, Generates hits to remove a "V" shaped notch
Rectangle, Leave / Remove slug, radius corners, X or Y first, shaker tabs.
Single hit, Location is specified in any of 11 different ways.
Multi, Punch a series of pre-selected holes with basic path optimization
Utility, Position no punch, multiple part setup, repositioning, Laser / Plasma ON/OFF
Draw, Simple drawing commands for sheet, clamps, and tool lists.
Partial List of Supported Machines:
USA AMADA
STRIPPIT
WEIDEMAN
BEHRENS
TRUMPF
DI-ACRO
Can be user customized to any other standard punch / burn machine