NC-Code Analyzer 20

13/Xpert

Complete NC-Code Verification Prove-Out, Correction, and Cycle Time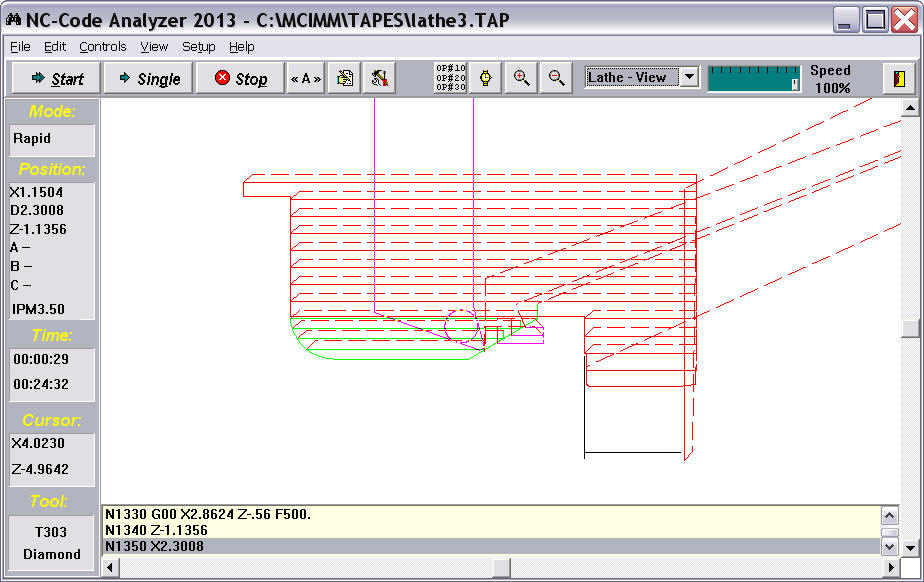 Prove out, Analyze, and calculate Cycle Time for all of your G-Code machine files, with Interactive Graphics Verification. Verify, Debug, and calculate cycle time for your NC-Programs, without tying up your expensive Machines !!

NC-Code

Xpert

FEATURES:
Eliminates Need for Machine Dry-Run.

Checks NC-program for Programming Errors.

3 Dimensional Viewing.

Built in Tool Shape generator for Standard Milling Tools (End Mill, Ball Nose, Bull Nose, Drill) and Standard Turning Tools (Diamond, Round, Triangle, Grooving and Threading)

On-Line Editor for Immediate Correction (Errors can be corrected as you run)

Built in Basic NC-Code Editor

Auto-Run, Auto-Fit, and Block by Block (Single Block) control

Will Accept any G-code Program (some restrictions apply*). Includes Detailed Setup Program for Maximum Flexibility.
NC-Code Analyzer 2013 All the Advantages of NC-Code Xpert, Plus:
Calculates Cycle time & Job Estimate.

Cycle Time Calculation can be easily user "adjusted" for maximum accuracy.

Cycle Time Summary can be output as a standard DIF file for Spread Sheet Analysis.

Adjustable Play Back Speed

Fixtures & Part Geometry can be Imported as a DXF file, and Displayed along with Tool Path for Maximum Verification.

Output the Tool Path as a DXF file for Importing into other systems

Rotary Table support / views

Full Solids Verification - When combined with POWERSTATION PRO/PRO+
Easy-to-use
Full use of all standard WINDOWS features: Menus, dialog box's, multiple windows, and full clipboard support.
Requires
Microsoft Windows XP / Vista / 7 / 8, with compatible pointing device, display, and printer.
* Supports Industry Standard -G- Code Formats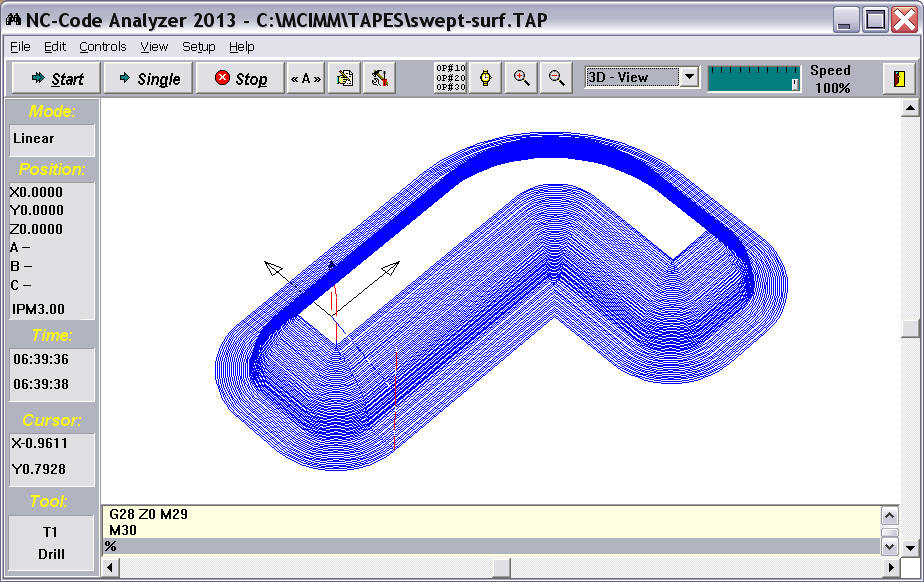 Sample 3D Milling/Viewing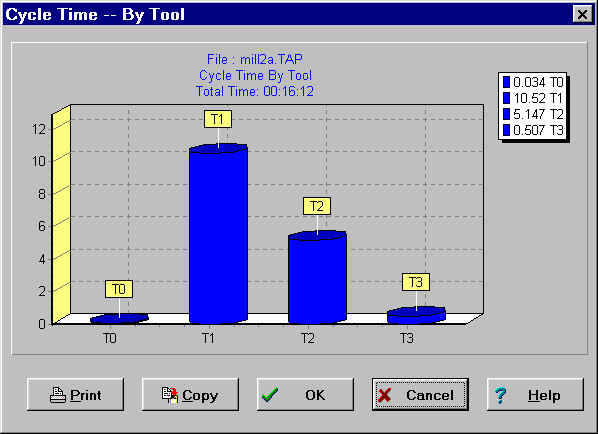 Cycle Time Graph (Not available in Xpert Version)
Sample Data File Print Out (Not Available with Xpert Version)